W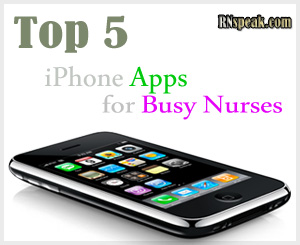 ith smart phones now dominating the cell phone market, nurses now have the chance to make their daily tasks easier to handle using the latest technologies. We all know that the demands of the profession can sometimes be overwhelming;from patient's needs, doctor's orders to several miscellaneous tasks and whatnot, nurses are required to be always on the go.
And as health workers at the forefront of patient care, nurses should always seek for new and better ways to make themselves a valuable part of the health care team and a competent health care provider at the same time. This is when the need for the latest mobile apps comes to the picture.
Regardless if you're using Google's Android phones or Apple's iPhones, there are more apps perfectly suited to the nursing lifestyle than you actually thought. Although some of these apps are either available through a wireless  network or a paid download, nothing can beat the benefits that a nurse can reap from these mini nursing life-savers in the long run. Without further ado, here are five of the best iPhone apps (with corresponding download links included) to help busy nurses in more ways than one:
With a medical dictionary containing over 60, 000 different concepts and almost 5,00 drug information stored in it's database, this mobile app created by Unbound Medicine is the perfect look-up tool for any student-nurse or staff nurse alike. It also features updated information about various tests, diseases, nursing journals and medical procedures so you can search for any nursing-related information whenever and wherever you need it.
2. iChart
Described by Caretools as an electronic version of a "personal medical assistant", both nurses and doctors can benefit from this iPhone app by bringing all patient-related information ranging from diagnostic tests to patient's private profile right inside their smart phones. Using the latest technology to let health care workers to be in the know of their patient's ever-changing status, this tool is an organized way to bring patient care to a higher notch.
3. Epocrates Rx
A free iPhone app is a rarity but thanks to Epocrates Rx, nurses can actually get the latest drug updates, a detailed drug study and an interactive tool about drug interactions through their iPhones with absolutely no expensive fees required. It really pays to bring your drug handbook every time you attend to your duty but to literally bring it on your phone? Sounds too good to be true but that's the wonder of technology – it can turn almost anything into a portable mobile app.
4.  ScribbleDoc
Does the doctor's handwriting always gives  you headaches? Perhaps you need the mobile app called ScribbleDoc which is fresh from being released by impactednurse.com labs. Using the latest technology in file conversion, you can easily decipher what's inside your doctor's discombobulating text by first scanning the document and then letting your phone to "transmogrify" it with the aid of Google Translate. After a few seconds, you can now read the eye-friendly and "Arial, 12" version of your doctor's instructions.
A  newly released application especially made for iPhone 3G, A.D.A.M. Symptom Navigator is the one to beat when it comes to a detailed list of information about a particular disease. Ranging from assessments, treatments, signs and symptoms to relevant alerts on  when the disease becomes an emergency, the best time to call the doctor and outstanding information about preventive techniques, nurses and any health buff can benefit from this one-of-a-kind health resource.
The continuous  evolution of technology is something inevitable so as nurses who have the patient's welfare at the top of our priorities, we now have the option to use the latest iPhone apps to benefit not just ourselves but our patients and their families as well. In the end, technology and health can be the best combination depending on how we utilize the perks we get from it.