Philhealth Cares nurses online application is now open
Philippine Health Insurance Corp. (PhilHealth) will deploy 530 jobless nurses as Philhealth customer care personnel under its Customer Assistance, Relations and Empowerment Staff (CARES) program for next month.
Phil health CARES successful applicants will receive a monthly compensation of around P15, 000 along with health insurance coverage.
Skills required for applicants includes:
Excellent communication skills, both oral and written
Ability to listen and respond to customer concerns
Knowledgeable about MS Office applications
Adept at using online application systems on wireless communication device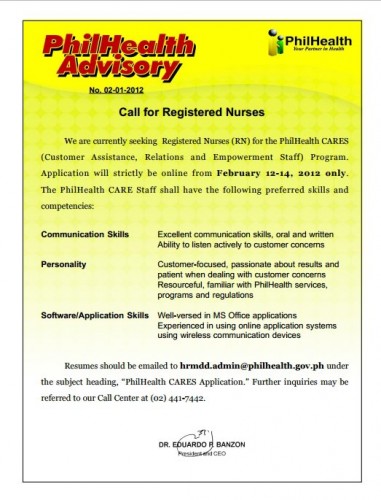 Nurses who successfuly applied thru email /mail/walk-in needs to apply online thru their website at: https://cares.philhealth.gov.ph/ from February 12-14, 2012 only.
Submit your On-line Application for PhilHealth Cares Now!