Percentage of Overseas Filipino Workers (OFW) nurses has dramatically risen since the early years of the new millennium. This drastic change should provide everyone an advantage, for there will be more angel in the sick room to take care the rest of the world.
Almost 500 nursing schools in the Philippines are producing up to 100, 000 nursing graduates a year. Then many questions would arise regarding this uncontrollable inflation of nurse. So, where do these nurses go? Can anyone actually track all Filipino Nurses whereabouts? No matter what the important thing is, Filipino nurses have permeated every nook and cranny of the world, that the Philippines became even more well-known because of the Filipino nurse's TLC trademark.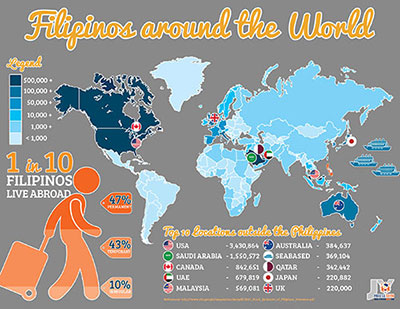 A map with this article shows the demographics of Filipinos in general scattered around the world. If you look at it, you can imagine how a lot of these migrants are nurses, right at this moment taking care of another person who needs aid. With that we should be proud.
However, The Filipino Nursing Community, like all other sectors has issues tied with it both here and abroad. From 2013 to the present, cases have been filed against Filipino nurses for various kinds of offences: 2 male Filipino nurses and another one have been separately accused in the U.S. for their lewd conducts to their patients. A female nurse in the UK was struck from the Nursing and Midwifery Council after having an affair with a patient's relative.
Despite those challenges,Filipinos persist. The Filipino nurses remains steadfast to her ideal of giving the best TLC there is. Anywhere in the world, the Filipino nurse is esteemed for their sincerity, honesty, hard work and quality of care. To a Filipino nurse, the patient is more than just a patient. He or she is family. This ideal can be explained by the close family tie inherent in a Filipino family. And the Filipino nurse embodies this ideal and brings it with her to her work, wherever land her calling takes her.
For these admirable traits, many Filipino nurses have given the country honour. Menchu Sanchez stands as a good example for staying with her 20 baby patients even as a huge Hurricane (Sandy) struck her hospital in the U.S. in 2012. Another nurse worth remembering is Nelia Laroza who contracted Severe Acute Respiratory Syndrome (SARS) in 2003 while on duty. They, with all other nurses, who sacrifice themselves for others by doing their duties the best way they can, who are caring for everyone in the background and who work in the name of service deserve respect and pride no less.
Lastly an ode: "Filipino Nurse, we thank you. And so value yourself. Know your rights. Be gentle with yourself; for you have eased the sufferings of many, you have made life for the sick and ailing, and even those of the well even better."